Syfy Insider Exclusive
Create a free profile to get unlimited access to exclusive videos, sweepstakes, and more!
Sign Up For Free to View
Help find Hubble's Hidden Treasures

I worked with Hubble Space Telescope data for about ten years, and one of the most amazing things about that was seeing the images fresh off the mirror. Knowing that no human on Earth had ever seen that particular object that sharply was a thrill.
Not every Hubble observation gets turned into a gorgeous image, though. A lot of them don't need to be for scientific publications, for one thing, and for another not every observation is of a targeted object for a specific purpose. Because of that, there are probably hundreds and hundreds of amazing objects -- galaxies, nebulae, star clusters -- buried in the data, waiting to be found.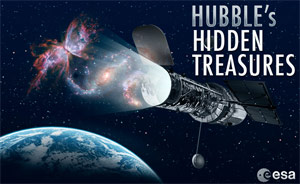 That's where you come in: the folks at the European Space Agency's Hubble HQ are holding a contest they call Hidden Treasures. You can look through the Hubble observation archive for images and tweak them using online tools they provide, or you can really roll up your sleeves and use professional astronomical software to prettify the images. They've made a video explaining the Hubble archive, which may help.
The contest has nice prizes (an iPod Touch, an iPad, and other "goodies"), but you have to hurry: it ends May 31. I know, I'm late to the game here, and I apologize. But if this sounds like something you'd like to do, go dive in! I can tell you as someone with (a lot) of first-hand experience here: it's huge fun. And who knows? You might find something beautiful, something interesting, or even something no one has ever seen before.
Related Posts:
- When beauty and science collide
- A spiral that can beat you with two arms tied behind its back
- Happy 22nd, Hubble!
- Desktop Project Part 26: Carina will keelhaul your brain

Sponsored Stories
Recommended by Zergnet