Syfy Insider Exclusive
Create a free profile to get unlimited access to exclusive videos, sweepstakes, and more!
Sign Up For Free to View
Hey, I can see my snow-covered house from here!

In case you were wondering what the snow was like here in Colorado the other day...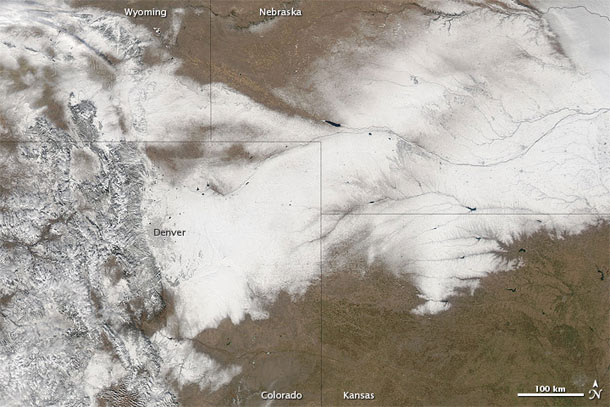 [Click to ensnowflakenate.]
That's an image taken by NASA's Aqua satellite on February 5, 2012. I live in Boulder, to the northwest of Denver (which is labeled), right on the edge of the Rockies. We got well over 30 cm here locally, and it was deeper in other places. Typical of the area, though, the Sun was out the next day, and now our yard looks like a fairyland of sparkles.
It's unusual to get a heavy snowfall like this in February (we do get big ones, but later in the year) and from what I've heard this was a record for a February. And not to overextend the post to climate change, but a) weather is not climate... unless you add time, and 2) contrary to any soundbite you might hear, snowstorms will actually become more common as the Earth warms. Warmer weather means more evaporation, so more moisture in the air. It's still cold higher up in the atmosphere, and it's still cold in the winter over land, so a warmer planet overall means more snow in some places. I'm not attributing this event to global warming, to be clear. But it's the kind of thing we can expect in the coming years.
NASA image courtesy Jeff Schmaltz, LANCE/EOSDIS MODIS Rapid Response Team at NASA GSFC
Related posts:
- Snowpocalypse 2011 from space!
- Lovely, frigid ripples
- Icy swirls around a patient volcano

Sponsored Stories
Recommended by Zergnet