Syfy Insider Exclusive
Create a free profile to get unlimited access to exclusive videos, sweepstakes, and more!
Sign Up For Free to View
Hurricane Sandy intensifies as it grows

The NASA/NOAA weather satellite GOES-13 is capturing images of Hurricane Sandy, and the animation below shows the growth of this massive storm over the time period of October 26 to today, Sunday the 28th, ending just after 16:00 UTC (10:00 a.m. Eastern US time):
[You may need to refresh this page to see the video.]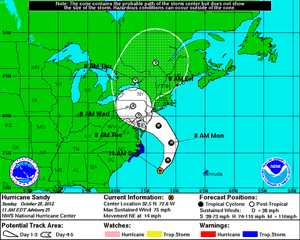 Wow. You can see it forming a clear eye again toward the end. If you live in the northeast US, you've probably already been hearing the news and been given advice on what to do to prepare. My take on it? Heed it. This sucker is a big one, and the current forecast looks like it will come ashore in the Delaware/New Jersey region, but will affect the coast for hundreds of kilometers north and south of there, as well as pretty far inland.
For updates and such, try the National Weather Service Hurricane Center. The sidebar on that page has lots more info, including advisories.
Image credit: NASA GOES Project. Tip o' the poncho hood to NASAGoddard on Twitter.
Sponsored Stories
Recommended by Zergnet