Syfy Insider Exclusive
Create a free profile to get unlimited access to exclusive videos, sweepstakes, and more!
Sign Up For Free to View
I'll be on The Late Late Show with Craig Ferguson on Wednesday night!

I am really ridiculously happy to announce that I'll be a guest on the CBS TV program "The Late Late Show with Craig Ferguson" Wednesday night February 29!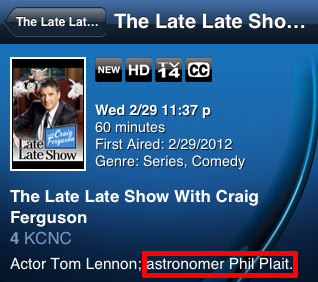 I'm a huge fan of Craig's (see Related Posts below for articles I've written about his show) for a lot of reasons, mostly because he's obviously very smart -- he did a five minute bit in his opening monologue once about Copernicus -- and also because he's a friend of the geek, having had guests on like Adam Savage, Chris Hardwick, Jennifer Ouellette, and various cast members from Doctor Who. He's also a big science nerd; he follows me on Twitter, so he clearly has exceptional taste.
So when I was asked to be on the show, I took nearly 60 nanoseconds to mull it over, and flew to LA to pre-tape this Leap Day show a couple of weeks ago.
As far as what happened on the segment... well, I won't tell you. You'll have to tune in and see... though I'll note that Craig is known for his somewhat risque humor, and I'm not always the highest brow when it comes to science either. Still, I can show you this picture I took of me in the show Green Room: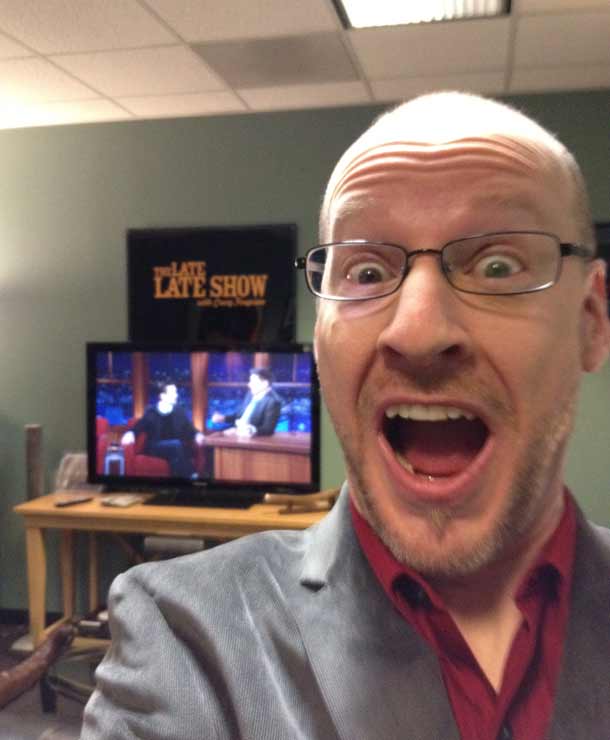 Yup. I'm a dork.
The show airs on CBS at 12:35 a.m./11:35 p.m. (check your local listings blah blah blah) on Wednesday night/Thursday morning.
Related Posts:
- Extermicraig!
- Late Late Cocktail Party Physics
- Your late night talk shows. Giff dem to me.
- Craig Ferguson takes on the Apollo deniers

Sponsored Stories
Recommended by Zergnet