Syfy Insider Exclusive
Create a free profile to get unlimited access to exclusive videos, sweepstakes, and more!
Sign Up For Free to View
Incredible time lapse: Milky Way over Africa
This video is only 20 seconds long, but wow. Simply, wow.
[Note: I've noticed sometimes the video won't load and you get a black space. Try hitting refresh, or just click the link in the next sentence.]
This was created using a series of still images from the International Space Station on December 29, 2011, over the course of about 20 minutes. The ISS was orbiting over Africa at the time, as it passed from the center of the continent to Madagascar and then over the ocean. The flashes of light are from storms on our planet's surface.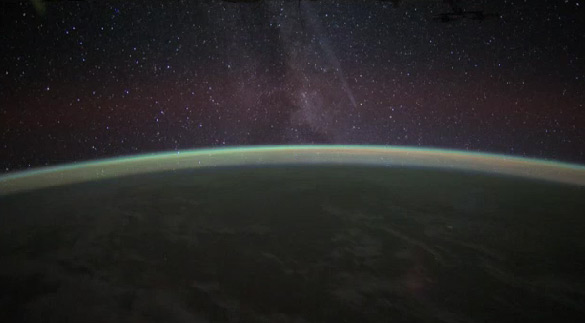 In the sky, though, the Milky Way steals the scene as it rises over the eastern horizon. Toward the end of the video, what I thought for a moment was a reflection of the Milky Way on the glass of the ISS turns out to actually be Comet Lovejoy, which was still visible at the time. You can also see the thin green arc of airglow over the Earth before the rising Sun ends the video.
If it weren't copyrighted, I would've added Enya's "Storms in Africa" track to this. It seems appropriate.
... and if there's a metaphor here for overcoming adversity -- whatever that may mean to you -- well, then, feel free to ruminate over it.
Credit: NASA
Related posts: - JAW DROPPING Space Station time lapse!
- Time lapse: The spectacle of Comet Lovejoy
- INSANELY cool picture of Comet Lovejoy
- Time lapse video: ISS cometrise
- JAW DROPPING Space Station time lapse!
Sponsored Stories
Recommended by Zergnet