Syfy Insider Exclusive
Create a free profile to get unlimited access to exclusive videos, sweepstakes, and more!
Sign Up For Free to View
Jenny McCarthy infects Chicago

Splash, a style magazine in Chicago, is reporting that they've hired Jenny McCarthy to be their new daily blogger.
Yes, you read that right. But it gets better. And by better, I mean worse.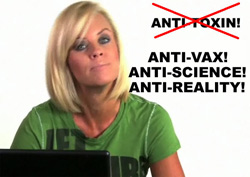 Besides a daily blog, she's being given a weekly advice column called "Ask Jenny", where, among other things, she will "tackle parenting".
Tackle, indeed. Body slam is more like it.
As someone who strongly advocates parents to get their kids vaccinated - y'know, to keep them from contracting potentially debilitating or deadly diseases, because I'm funny that way - I am not exactly a fan of Ms. McCarthy. I've written about her many, many times, because of her tenuous grasp of medical reality. She has for example repeatedly and fallaciously linked vaccines to autism, and has spouted inflated propaganda about toxic ingredients in them.
If you want the truth about vaccinations, and why they are critical for our public health, then go to the Immunize for Good website. Or talk to your board-certified doctor (good advice under any circumstances). But don't talk to Jenny McCarthy. When it comes to medical advice she's as wrong as wrong can be, and people who listen to antivax propaganda are putting lives at risk.
As you can imagine, there are some questions for her "Ask Jenny" column it would be interesting to see her answer. Why, despite the vast and overwhelming evidence against it, do you think vaccines cause autism? Do you know the difference between ethylmercury and methylmercury? How many babies die of pertussis every year? How big a number is acceptable to you?
Let me leave you with this. Guess what the slogan is for Splash magazine. Go ahead, guess.
"Chicago's Dose of Style, Society, and Celebrity." Emphasis mine. But still.
You can't make this stuff up. But antivaxxers make up lots of stuff about vaccines. Too bad people pay attention to them.
Related Posts:
- Jenny McCarthy: spreading more dangerous misinformation
- Jenny McCarthy still thinks vaccines cause autism
- Why you should listen to celebrities
- â¦but how do we recover from Jenny McCarthy?

Sponsored Stories
Recommended by Zergnet