Syfy Insider Exclusive
Create a free profile to get unlimited access to exclusive videos, sweepstakes, and more!
Sign Up For Free to View
Lightning strikes in a storm bigger than worlds

In 2010, a storm erupted in Saturn's northern hemisphere. It grew, and grew, and GREW, until it physically wrapped around the planet. At its peak it was 300,000 kilometers (180,000 miles) in length: 3/4 of the distance from the Earth to the Moon!
As you might expect, a storm like that might generate lightning... and even from a distance of 3.3 million km (2 million miles), the lightning flashes were bright enough that they were visible to the Cassini spacecraft: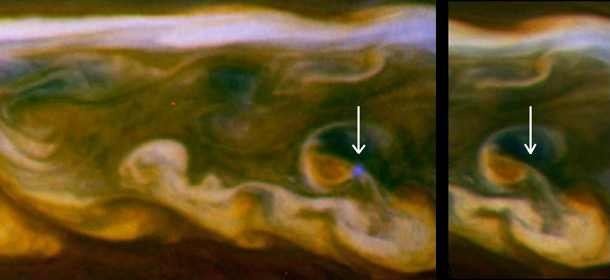 Holy. Haleakala. [Click to encronosenate, and you want to.]
The lightning flash can be seen in the image on the left, indicated by the arrow. It happened while Cassini happened to be using a blue filter, which is why it appears to be that color. The white and tan milky clouds are from the storm itself.
The lightning has several analogies to storms here on Earth; the brightness was comparable to the brightest of terrestrial lightning strokes, and was produced in an atmospheric layer where water droplets freeze, like here as well.
But bear in mind the scale here. The head of that storm you can see in the image here is roughly the same size as our entire planet Earth. Storms like this must happen every so often on Saturn, given the odds of us happening to see one just as we also happen to have a spacecraft there that can take a really good look at it.
Always remember: when we gaze out at the objects in our solar system, and even beyond, these aren't just static painting of long ago events, unchanging and forever frozen. They are actual worlds, dynamic and ever-shifting. And as alien as they are, there is always something analogous to Earth about them, something that will always remind us of, and teach us more about, our home.
Image credit: NASA/JPL-Caltech/Space Science Institute
Related Posts:
- A Saturnian storm larger than worlds
- A storm wraps around Saturn
- Psychedelic Saturn storm!
- Saturn broods while a storm dissipates

Sponsored Stories
Recommended by Zergnet