Syfy Insider Exclusive
Create a free profile to get unlimited access to exclusive videos, sweepstakes, and more!
Sign Up For Free to View
Mars orbiter catches pic of Curiosity on its way down!
This is truly astonishing: the HiRISE camera on the Mars Reconnaissance Orbiter snapped what may turn out to be the Space Picture of the Year: Curiosity descending to Mars under its parachutes!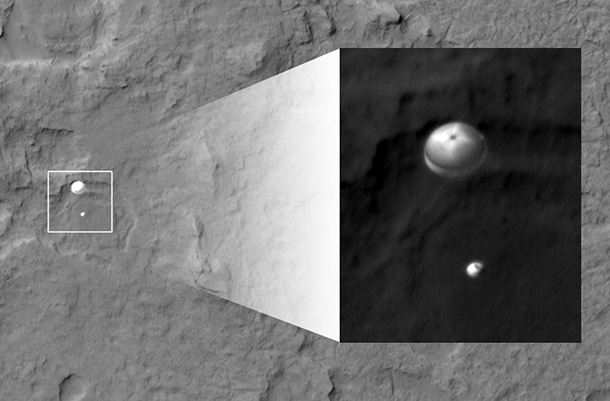 Holy. Haleakala.
The rover is safely tucked inside the backshell, suspended underneath its huge parachute. This image was taken just moments after Curiosity's speed had dropped from thousands of kilometers per hour to just hundreds. Shortly after that, rockets underneath took over the job of slowing it further, so that the sky crane could lower Curiosity safely to the Martian surface.
This took incredible skills in calculations, engineering, and just a wee pinch of good timing. Engineers here on Earth knew just where and when Curiosity would be coming down, so they were able to aim HiRISE at the right place at the right time. It strongly reminds me of a similar picture taken in 2008 by the same camera as the Phoenix lander descended to the surface of Mars. I suspect MRO was closer to Curiosity than it was to Phoenix, allowing higher resolution. [Update (16:40 UTC): More info about the picture can be found on the MRO HiRISE wesbite.]
The simple and sheer amazingness of this picture cannot be overstated. Here we have a picture taken by a camera on board a space probe that's been orbiting Mars for six years, reset and re-aimed by programmers hundreds of millions of kilometers away using math and science pioneered centuries ago, so that it could catch the fleeting view of another machine we humans flung across space, traveling hundreds of millions of kilometers to another world at mind-bending speeds, only to gently -- and perfectly -- touch down on the surface mere minutes later.
The news these days is filled with polarization, with hate, with fear, with ignorance. But while these feelings are a part of us, and always will be, they neither dominate nor define us. Not if we don't let them. When we reach, when we explore, when we're curious -- that's when we're at our best. We can learn about the world around us, the Universe around us. It doesn't divide us, or separate us, or create artificial and wholly made-up barriers between us. As we saw on Twitter, at New York Times Square, where hundreds of people watched the landing live, and all over the world: Science and exploration bind us together. Science makes the world a better place, and it makes us better people.
It's what we can do, and what we must do.
Image credit: NASA/JPL/University of Arizona
Related Posts:
- Humans send their Curiosity to Mars!
- Best. Image. Ever.
- Why explore space?
- HiRISE spots Phoenix once again
Sponsored Stories
Recommended by Zergnet