Syfy Insider Exclusive
Create a free profile to get unlimited access to exclusive videos, sweepstakes, and more!
Sign Up For Free to View
My Late Late Show segment is now online

I have no idea how legal this is, but a guy who has lots of videos up from The Late Late Show with Craig Ferguson has posted my segment from February 29 as well: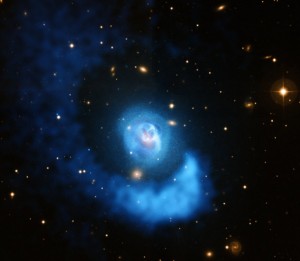 CBS has a copy of it on their site too, but apparently that's only viewable inside the US.
If you want to see those pictures Craig and I were looking at and find out more about them, I've written about all three: Picture 1 (Rudolph), Picture 2 (the star spewing jets of gas that Craig made fun of), and Picture 3 (the cluster of galaxies with the swoosh of gas). I've heard from a few folks with the Chandra Observatory - the one that took the last picture -- and they were thrilled it got press. I'm wondering if they had their volume turned all the way down when they watched...
And just in case anyone wonders if I really can play the harmonica, the answer is "kinda". I have further evidence of this being the case. And I have to admit, I'm generally in pretty good company there, too.
Related Posts:
- Iâll be on The Late Late Show with Craig Ferguson on Wednesday night!
- On winning the Golden Mouth Organ
- Extermicraig!
- Late Late Cocktail Party Physics

Sponsored Stories
Recommended by Zergnet