Syfy Insider Exclusive
Create a free profile to get unlimited access to exclusive videos, sweepstakes, and more!
Sign Up For Free to View
My Nerdist episode is online!

On March 2, 2012, I was the guest on the live Nerdist podcast recorded in Boulder, my hometown. We did the show to a full house (700+ folks) and had a lot of fun. And now, for your brain-melty pleasure, the episode is now online!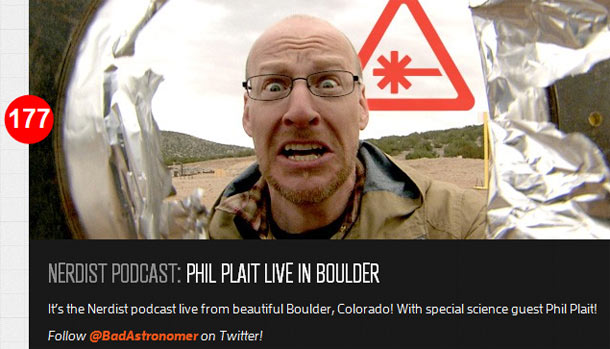 Now listen -- and I'm serious here -- this podcast is Not Safe For Work. I mean seriously and holy cow really really NSFW. There is much swearing, and much humor that would not be fit for primetime TV, say. I'm only marginally sweary, but Chris, Matt Mira, and Jonah Ray -- the Nerdist crew -- are very much so. And before anyone calls child services on me, in the podcast Jonah misspoke: my daughter is in fact older than 14, and she's a big fan of the podcast.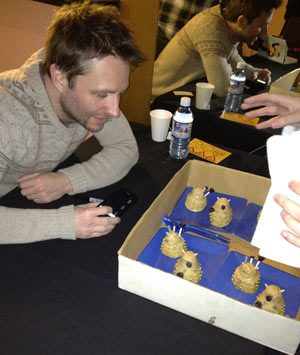 Anyway, it was a great experience. I've known Chris for a few years now, and finally got a chance to meet Matt and Jonah, who were funny and lovely. And the audience! They were amazing. I could tell they were having a good time, and afterwards the line to talk to the Nerdist folks was so long we were there until nearly 2:00 a.m. And man, do they love Chris -- they brought presents, drawings, Dalek cupcakes... it was amazing.
If you're curious about the topics we covered, we went over marijuana, living in Boulder, conspiracy theories, the Transformers movies, the Moon Hoax, my work on Hubble, poop jokes, life as a nerd, supernovae, quantum superposition, colors in Hubble pictures, Fiske planetarium, and much more. Come to think of it, I'm surprised in hindsight we didn't totally dork out over Star Trek and Doctor Who! That's actually pretty shocking.
So, if you're not easily offended, gird your ears and give it a listen. And I hope, given the caveats, you enjoy your burrito.
Sponsored Stories
Recommended by Zergnet