Syfy Insider Exclusive
Create a free profile to get unlimited access to exclusive videos, sweepstakes, and more!
Sign Up For Free to View
One small tread for Curiosity, one giant leap for roverkind

I'm posting this just because I can: a closeup of the tread track left by the Mars Curiosity rover's wheel in the sand:
That image was taken by the left MASTCAM on Sol 57, the 57th Mars day after the rover landed - October 3, 2012 to you and me, stuck as we are here on Earth.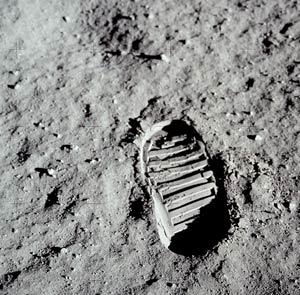 If this picture looks familiar, if it tickles some part of your brain as it did mine, then it's probably because it bears a remarkable similarity to the bootprint left on the Moon by Buzz Aldrin. That iconic image will forever represent the moment humanity's foot first set upon an alien world.
Perhaps currently there is no one iconic picture from Mars that has earned its place in history's archive. But that day may yet come when we see a picture very similar to Buzz's... and the dust compressed by a human boot will be red, not grey.
Sponsored Stories
Recommended by Zergnet