Syfy Insider Exclusive
Create a free profile to get unlimited access to exclusive videos, sweepstakes, and more!
Sign Up For Free to View
Perihelion: The Earth is on its way back out again

Tonight at roughly 01:00 GMT (08:00 p.m. Eastern time), the Earth will be at a special place in its orbit: perihelion, the closest point to the Sun. Our orbit around the Sun is not a circle, but actually an ellipse, and in early January every year the Earth's motion sweeps us closest to our favorite star. We're only a couple of million kilometers closer than average so it's a small difference, and not one you'd notice unless you were paying very close attention.
If you want a little more precision, the distance from the center of the Earth to the center of the Sun will be 147,097,206.9 km at that moment. More or less.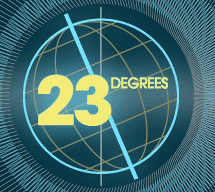 Apropos of this, I wrote a guest post about perihelion and what it means for the wonderful BBC blog called 23 Degrees. This is the companion blog for a TV documentary series they're making (to air later this year) where they traveled the globe to film meteorological and astronomical events that occur during the course of one year. And since they began this journey at perihelion last year, I'm honored to have this anchor position.
So to speak, of course. Anyway, check the Related Posts links below for lots more about past perihelia (they're listed in reverse chronological order). It's always fun to write about it, and always fun to learn more about this spinning ball of rock we live on and the giant ball of plasma it orbits.
Related posts:
- At the bottom of Earthâs orbit
- Perihelion!
- Does this perihelion make my Sun look fat? (with cool math!)
- Donât you just hate perihelion?
- Approaching the Sun

Sponsored Stories
Recommended by Zergnet