Syfy Insider Exclusive
Create a free profile to get unlimited access to exclusive videos, sweepstakes, and more!
Sign Up For Free to View
Saturn broods while a storm dissipates

I'm in the middle of writing up a ton of stuff for the next couple of days, so let me just leave this here: a lovely image of Saturn and its moon Tethys and Enceladus, courtesy of Cassini: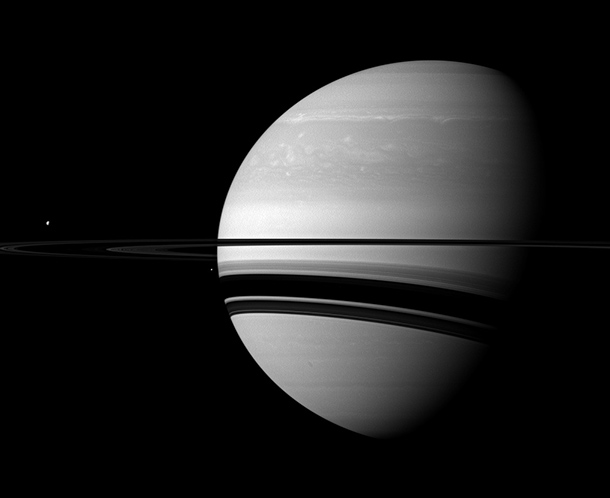 [Click to encronosenate.]
Sigh. So pretty. Tethys is the moon to the left, just above the rings, and Enceladus is right next Saturn, just below the rings. Cassini was just 1° south of the ring plane when it snapped this shot, so they appear very thin. It's approaching northern hemisphere summer for Saturn, though, so the Sun is shining down on the rings, and they cast a wide shadow on the planet's southern hemisphere cloud tops.
I can't help noticing the long, thin, white ribbon of clouds about 2/3 of the way up Saturn's northern hemisphere. That looks very much like the remnants of the gigantic storm from late 2010 that was so long it actually wrapped all the way around the planet! If you think it's crazy to think a storm could last that long, take note that Jupiter's Great Red Spot is at least 350 years old -- it was discovered around 1665, and who knows how long it was around before then? And heck, Saturn itself suffered through a huge lightning storm for eight months.
Our gas giants don't screw around. When they do something, they do it big.
Image credit: NASA/JPL-Caltech/Space Science Institute
Related Posts:
- Psychedelic Saturn storm!
- Saturn rages from a billion kilometers away
- Epic lightning storm electrocuting Saturn for eight months
- Crescent planet, crescent moonrise

Sponsored Stories
Recommended by Zergnet