Syfy Insider Exclusive
Create a free profile to get unlimited access to exclusive videos, sweepstakes, and more!
Sign Up For Free to View
Science Getaways: Dark skies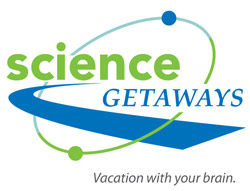 I got an email recently from BABloggee Mark Sunderland, pointing out this photo to me. It shows the Toronto skyline with the Milky Way and thousands of stars blazing behind it.
I had to chuckle: the picture is obviously fake (and now the caption at Flickr says as much, though it didn't when I first saw it). There's no way you could see the Milky Way from a city like Toronto. The city lights flood the air with illumination, lighting up the sky and drowning out faint stars. A long exposure photo of the sky over Toronto would make it worse; the sky would be washed out, with only a handful of stars visible. This is called light pollution, and it's a serious problem for astronomers. That's why we build our telescopes far from civilization centers.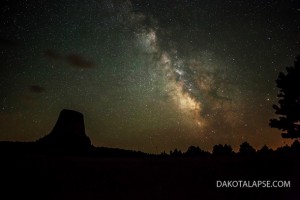 To really see the stars, you have to get away from cities, to a place with few lights to to compete with the sky. That's a big reason my wife and I chose the C Lazy U Ranch for our premier Science Getaways vacation. This is a dude ranch nestled in the Rocky Mountains of Colorado, where the nearest large town is Estes Park, 50 km to the northwest, and even that's blocked by the mountains. The skies there are dark.
Science Getaways is a company my wife and I started to add science to otherwise non-sciencey vacations. For this first one we have a geologist, biologist, and me at the dude ranch. Every day there will be science talks followed by short and long field trips (to accommodate different physical abilities) where we'll check out the local nature, and at night there will be stargazing sessions. I'm really exited about that last bit (duh). It's been a while since I've used a 'scope under really clear, dark skies -- I have an 8" Celestron and just seeing Saturn (which we'll do [NOTE ADDED JULY 21 - actually, by this time Saturn may be to low in the west to see - it'll be behind the mountains. There might be a location on the ranch where we can get a shot at it, though.]) is cool enough... but unlike that composite Toronto picture, the Milky Way over the mountains will be quite real, and quite spectacular. We'll be looking at nebulae, clusters, and other objects, too, and there will be plenty visible just to the unaided eye. I'll have binoculars people can use as well, which to be honest is one of my favorite ways to soak up dark skies. It's amazing what you can see with a decent pair of binocs.
This Getaway is from September 16 - 20, 2012 -- just three months from now. We have about 20 spots left open, so if you're on the fence about this, now's the time to decide. The skies are calling.
Related Posts:
- Science Getaways: T- 4 months
- Science Getaways: Update
- Science Getaways

Sponsored Stories
Recommended by Zergnet