Syfy Insider Exclusive
Create a free profile to get unlimited access to exclusive videos, sweepstakes, and more!
Sign Up For Free to View
Since the beginning of time, man has yearned to destroy the sun.

The Sun is feisty. Rising and falling packets of ionized gas (called plasma) below its surface generate fierce magnetic fields, which store vast amounts of energy. This can give rise to such features as sunspots, explosions like flares and coronal mass ejections, and huge, towering plumes of plasma called prominences.
While observing the Sun yesterday, April 29, my pal and friend of the BA Blog Alan Friedman captured an amazing sequence of shots of an eruptive prominence, one that doesn't simply fall back down to the solar surface, but also blasts material out into space:

[Click to greatly enfilamentate.]
Wow! Alan estimates that at its peak the eruption was 150,000+ kilometers (100,000 miles) in height -- compare that to the size of the Earth, a mere 13,000 km (8000 miles) in diameter. Yowza.
He also made a color image of it which is lovely and terrifying.... and slightly familiar. It didn't take me long to recognize it. That treacherous profile, that conniving nose, that sinister haircut...
Oh, it's clear who's really behind this eruption: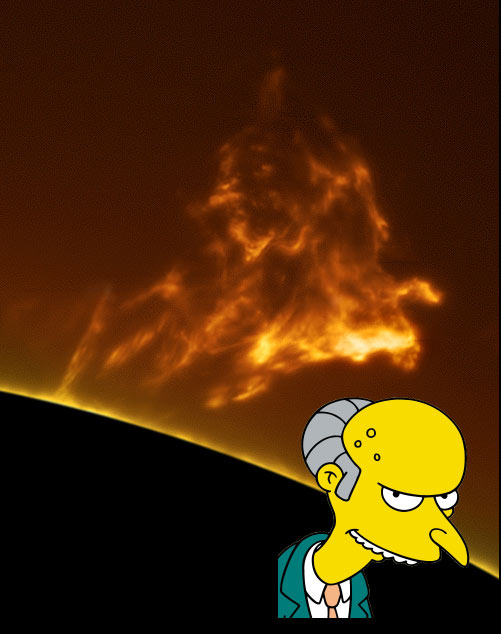 Exxxxcellent.
[UPDATE: Good news, everyone! When I posted this on Google+, commenter Artemis Entreri mentioned it looks more like Professor Farnsworth. I can't believe I didn't think of that myself! I blame Wernstrom.]
Image credit: Alan Friedman, used by permission; The Simpsons⢠& © Twentieth Century Fox Film Corp. All Rights Reserved. Used under The Fair Use Act. And yes, I'll admit it looks more like Abe Simpson than Burns, but if I used Abe I could't write the headline I did. And the nose is definitely Burns'. Also? BURNS. Because it's hot. So clearly this was the correct choice.
Related Posts:
- A fiery angel erupts from the Sun
- The delicate tendrils of a solar dragon
- GORGEOUS solar eruption
- The Sunâs angry red spot
- The face of our star
- Giant sunspots are giant

Sponsored Stories
Recommended by Zergnet