Syfy Insider Exclusive
Create a free profile to get unlimited access to exclusive videos, sweepstakes, and more!
Sign Up For Free to View
Singing the praises of Carl Sagan

One of my favorite quotations of all time is by Carl Sagan: "If you wish to make an apple pie from scratch, you must first invent the Universe." The poetry and lyrical nature of that line are wonderful, and the sentiment... well. He was exactly right. Sagan was one of many people who influenced me, and of course so many of us who promote astronomy to the public owe our careers to him.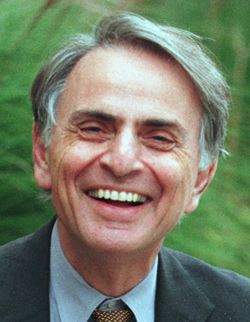 That's why I was so pleased when I found that Kenley Kristofferson, a music teacher and composer in Canada, wrote a lovely choral suite in three movements based on Carl Sagan's words! He has put all three on Sound Cloud, so you can listen to them for free. Each uses quotations from Sagan and weaves them into a tale of discovery, beauty, and astronomy. They're performed beautifully by the Antiphony Music Ensemble, a group of ten young singers from Winnipeg. On his website Kristofferson has the three movements downloadable as MP3s, and also has the lyrics written out as well.
This is a very pretty piece, and I hope some choral teachers out there pick it up and perform it. I think it sends a great message, and it does so in a beautiful way.
Addendum: Producer/writer/actor Seth MacFarlane -- yes, from "Family Guy" -- helped the Library of Congress acquire Sagan's personal papers. MacFarlane is a science nut, and as you may already know, is working with Neil Tyson to update and bring Sagan's "Cosmos" back to the TV. I think this is great, and it's fantastic to know that there are folks out there like MacFarlane willing to put their money where their brain is. Good on him.
Tip o' the elbow patch to the wonderfully named blog It's OK to be Smart.
Sponsored Stories
Recommended by Zergnet