Syfy Insider Exclusive
Create a free profile to get unlimited access to exclusive videos, sweepstakes, and more!
Sign Up For Free to View
Skeptics' Guide to the Universe (of asteroid mining and Mayans)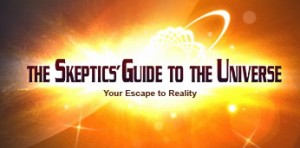 As a change of pace, I was the guest rogue on this week's episode of The Skeptics' Guide to the Universe. We covered a lot of ground, from Futurama heads to asteroid mining to Mayans... and I have an abysmal record at the Science or Fiction segment when I'm on the show, so you can hold your breath in anticipation to see if I finally get one right, or once again go down in flames. I'll note, obviously, that I always get it right when I listen to the show at home.
And nothing says love like Rebecca promising she'd freeze my head. Such a romantic.
You May Also Like
Recommended by Zergnet