Syfy Insider Exclusive
Create a free profile to get unlimited access to exclusive videos, sweepstakes, and more!
Sign Up For Free to View
Talk Nerdy To Me: Solar Storms

My friend Cara Santa Maria is a scientific researcher and educator. She's also Senior Science Editor with The Huffington Post, where she does a video show called "Talk Nerdy To Me". She contacted me recently because she wanted to do an episode on solar storms - how they work, and how they can affect us here on Earth. She interviewed me about them, and the episode is online at HuffPo:
[Note: If the video doesn't appear directly above this sentence, refresh your screen.]
The Sun has been a bit feisty lately, spitting out some decent flares and coronal mass ejections. So far, none has been both strong enough and aimed at us to do any damage (there was a fairly powerful CME in July, but it was on the other side of the Sun, directed away from us). And while they can't hurt us directly due to our protective atmosphere, as I say in the video solar storms can disrupt our power grid and our satellites, creating havoc. The more we study the Sun the better we understand it, and the more likely we'll be able to protect ourselves should it decide to throw another major hissy fit.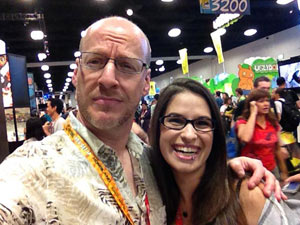 I'll add that Cara's good people, and I like her show (she interviewed me for the Venus Transit, too). She's passionate about science education, and like me she finds real joy and wonder in all fields of science and nature. You can follow her on Twitter.
[Edited to add: the shirt I'm wearing in the video (watch to the very end!) is available at Lardfork's Spreadshirt store.]
Related Posts:
- The birth of a sunspot cluster
- Octoberâs solar blast, seen from the side
- The comet and the Coronal Mass Ejection
- The Sun blasts out a flare and a huge filament

It's a fan thing
Join SYFY Insider to get access to exclusive videos and interviews, breaking news, sweepstakes, and more!
Sign Up for Free
You May Also Like
Recommended by Zergnet