Syfy Insider Exclusive
Create a free profile to get unlimited access to exclusive videos, sweepstakes, and more!
Sign Up For Free to View
Temba, his spiral arms wide

Lying roughly 50 million light years from Earth is the magnificent spiral galaxy NGC 5033. Although that distance is a soul-crushing 500 quintillion kilometers, it's actually relatively close by on the cosmic scale. Close enough that a lot of detail can be seen in the galaxy... and it also makes for a stunner of a picture: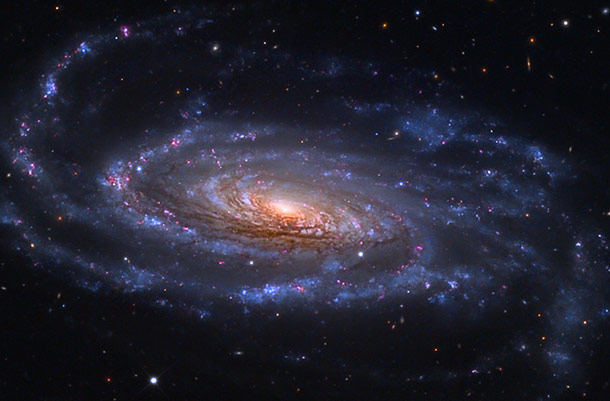 [Click to darmokenate.]
This shot was taken by friend-of-the-BA-blog Adam Block using the 0.8 meter Schulman Telescope on Mount Lemmon in Arizona. It's a whopping 13 hour exposure taken in near-true color.
It's amazing what you can see in just this picture if you know what to look for. The spiral arms of the galaxy are fairly open, which is common enough, but the outer ones stick out a bit more than you might expect. The nucleus is very small and bright, more so than I'd expect for a typical spiral as well. Both of those things led me to expect this is an active galaxy, and that turns out to be the case.
Every big galaxy - ours included - has a supermassive black hole in the center. The Milky Way's is 4 million times the mass of our Sun! In some galaxies, like ours, happily, the black hole is just sitting there. But in some there is gas actively falling into the hole. It spirals around and forms a very hot and very large disk, which glows fiercely as the matter is heated to temperatures of millions of degrees. They disk can blast out light from radio waves up to X-rays, and we say that the galaxy is "active".
A quick search of the literature didn't turn up any measurements for the mass of black hole in NGC 5033, but it does confirm that it's an active galaxy. Interestingly, the black hole is not located in the exact center of the galaxy! That's very unusual, and indicates that NGC 5033 recently merged with another galaxy, probably a smaller one. It's a cannibal! But then, most big galaxies are. It's how they get big... and you're living inside a big one, so there you go.
This may explain the wide arms on the galaxy as well; a collision and merger can distort the shape of the galaxy. Also, check out all the pink blobs along the arms: those are sites of furious star formation, the hot energetic massive young stars lighting up the gas around them. That also is common after a big collision.
Finally, one more nifty thing. You can see long ribbons of dark dust festooning the galaxy in the inner region. Dust absorbs light from stars behind it. But see how the dust looks like it's only on one side of the galaxy, the half in the picture below the center? That's an illusion, sortof. In reality there's dust orbiting all around the center. However, there are stars above and below the disk of the galaxy, and the ones between us and the far side fill in the darkness a little bit, so the dust is less apparent. I've written about this before, and it does happen in quite a few spirals. Click the links in the Related Posts section below to see more gorgeous galaxies with this feature.
It's funny how much information you can squeeze from a single picture! You have to be careful and not over-interpret it, and of course a lot of the things I've written here wouldn't have been known without other observations of NGC 5033 using different telescopes and different methods in different types of light.
But even just one picture can tell you a lot. And in my opinion - and I tend to be right about these kinds of things - the wave of beauty that flows over you when looking at this picture is only enhanced by knowing more about the galaxy itself... and is boosted in no small way by the fact that we can know these things.
Image credit: Adam Block/Mount Lemmon SkyCenter/University of Arizona
Related Posts:
- The dusty depths of a spectacular spiral galaxy
- Patchwork galaxy
- Virgos have beautiful eyes
- Coincidental spirals

Sponsored Stories
Recommended by Zergnet