Syfy Insider Exclusive
Create a free profile to get unlimited access to exclusive videos, sweepstakes, and more!
Sign Up For Free to View
Time lapse photographer Randy Halverson of Dakotalapse has done it again: an astonishing and beautiful video called "Temporal Distortion".
Lovely, isn't it? And the music was specially commissioned to Bear McCreary, who did the music for "Battlestar Galactica" and "The Sarah Conner Chronicles".
I love the meteor at 55 or so seconds into the video that leaves what's called a persistent train, or a trail that lasts for several minutes. In the time lapse you can see the vapor trail twist and turn as high-altitude winds push on it. I wrote about this before when Randy posted a still picture that eventually wound up in this video, and he graciously acknowledges me on his Vimeo page for the video.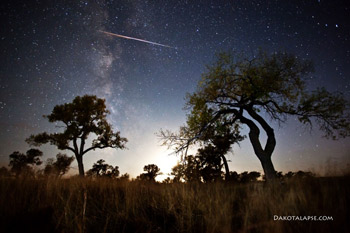 I also noticed a flashing object at 3:38, going right past a bright star (which is Altair, by the way). See it? I think it might be a tumbling satellite, which changes brightness as it orbits end-over-end. It moves pretty slowly, so it must be in a high orbit. Just before that, at 3:25, he has a great view of the constellation Cygnus, the Swan, and you can just see the pink glow of the famous North American Nebula.
This is a great video, and there's more too: Randy's made an extended cut which is 23 minutes long! You can buy it on his website. After all, my one complaint about these time lapse videos is they're never long enough.
Related posts:
- A meteorâs lingering tale
- Another jaw-dropping time lapse video: Tempest
- Gorgeous Milky Way time lapse
- The fiery descent of Atlantis⦠seen from space!
- Meteor propter hoc

Sponsored Stories
Recommended by Zergnet