Syfy Insider Exclusive
Create a free profile to get unlimited access to exclusive videos, sweepstakes, and more!
Sign Up For Free to View
The Amaz!ng Meeting 10: July 12-15, 2012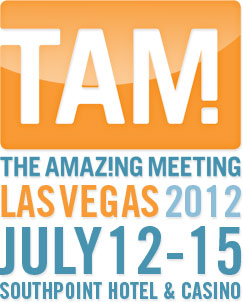 The tenth* annual Woodstock of skepticism, The Amaz!ng Meeting, was just announced for 2012! It'll be July 12-15 at the Southpoint Hotel in Las Vegas, Nevada.
The guest list, as always, is impressive, featuring a lot of familiar faces and a few I don't know that well. But that's the point; have some people who are old hands at this, and then bring in new blood to mix it up as well. I'm really glad to see the list changing up every year, so that new voices are heard.
Speaking of which, you may notice I'm not on the speaker list. JREF President D.J. Grothe graciously asked me to come, but after some pacing and some thought, I've decided to go on sabbatical this year. I've got several other irons in the fire right now (like Science Getaways) and they're occupying a lot of my attention. Since I've been to every American TAM as well as the first one in London -- not to mention quite a few other skeptical meetings throughout the year -- I've decided to scale back a bit this year and recharge my batteries.
But don't let that stop you from going! TAM is, well, an amazing event, with lots of fun and learning to be had. But it is a skeptical conference, so don't take my word for it. Check it out for yourself!
Which reminds me: are you an educator interested in getting more critical thinking into the classroom? Then you should definitely check out these free educational packets the JREF has put together! There are currently three -- ESP, the Cottingley Fairies hoax, and dowsing -- but more are planned. These will give students a good introduction into investigation and critical thought, which hopefully can become a lifetime basis of how to think, not just what to think.
* Well, sorta. There was a TAM 5.5 during a long gap between meetings, and now there have been two TAM Londons and one in Australia, so the numbering system is becoming increasingly inaccurate, even when restricted to the US!
Sponsored Stories
Recommended by Zergnet