Syfy Insider Exclusive
Create a free profile to get unlimited access to exclusive videos, sweepstakes, and more!
Sign Up For Free to View
The art of exploring Mars

My friend Dan Durda -- astronomer, asteroid researcher, and artist -- drew a pretty cool digital painting of what it will look like, sometime hence, when humans explore the rugged landscape of Mars for themselves: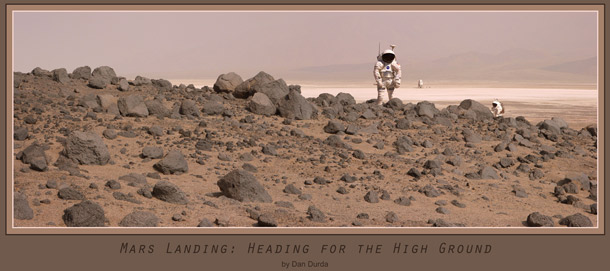 Cool, huh? It's based on pictures he took in Death Valley, which has a lot of similarities to the Red Planet.
I love Dan's stuff (more of his work is featured in the links listed in Related Posts, below). He's put this in his "3D Impact" store where you can get this as a poster, on a coffee mug, or even a laptop cover.
I'll be seeing Dan this weekend at SpaceFest IV, a fun meeting for space enthusiasts being held in Tucson. There'll be astronauts, astronomers, and artists there, and I hope a few of you as well!
Related Posts:
- Your chance to lick Pluto
- All these worlds are yoursâ¦
- New study: 1/3 of Sun-like stars might have terrestrial planets in their habitable zones
- The Beauty of Space

Sponsored Stories
Recommended by Zergnet