Syfy Insider Exclusive
Create a free profile to get unlimited access to exclusive videos, sweepstakes, and more!
Sign Up For Free to View
I have been remiss about keeping up with the new season of Doctor Who - I have the episodes recorded but haven't had a chance to watch yet, so no spoilers, sweeties! - but this has not in any way tarnished my love for the show.
But love has different levels, different strengths. While I do very much enjoy the show and think about it a lot as any geek does, I don't think I would say I worship it. Still, I had to smile as I watched this video by Mike Rugnetta at the PBS Idea Channel, where he asks: is Doctor Who a religion?
It's a funny idea, and he certainly brings a lot of evidence to the table! If I were taking the question seriously, I'd say it's not a religion unless people actually believe the show is real. Otherwise, it's more of a philosophy.
But then, of course, there's this. Hmmm: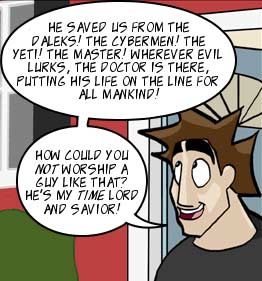 Thinking on this more, though, I suspect that if I had to start a church of Who, it wouldn't have the Doctor as the central figure. Clearly, if you watch this, you'll see it's Karen Gillan who possesses supernatural powers.
Of course, my choice of Ms. Gillan here has nothing whatsoever to do with the fact that when I attended the Doctor Who panel at Comic Con this year and went up to take this photo, she looked right at me: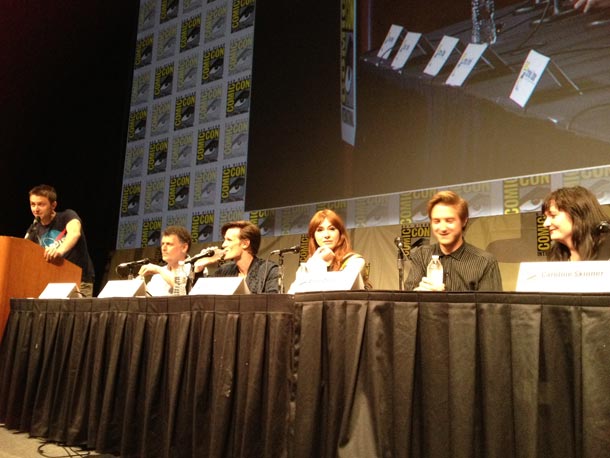 Sigh. My heart may belong to River Song, but what can I say? Unlike the Doctor, I'm only human.
Tip o' the sonic to Nerdist.
Related Posts:
- Comic Con 2012
- Time and Relative Dimensions IN ROCK (also I Am the Piano Doctor Man)
- Dragon*Con 2011
- My Nerdist episode is online
- My Late Late Show segment is now online

Sponsored Stories
Recommended by Zergnet