Syfy Insider Exclusive
Create a free profile to get unlimited access to exclusive videos, sweepstakes, and more!
Sign Up For Free to View
In April, 2012, the Dawn spacecraft was a mere 272 kilometers (170 miles) from the surface of the asteroid Vesta when it took this wonderful picture of the crater Licinia: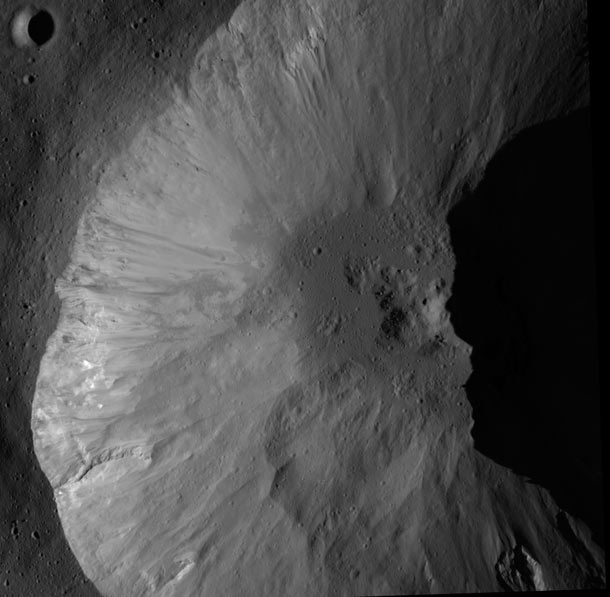 [And oh yes, you want to click to envirgingoddessenate - it links to a picture of the area around the crater as well.]
Licinia is about 25 km (15 miles) across - too big to fit in Dawn's field-of-view from that height. But it does show spectacular detail, including what look like landslides into the bowl from the crater rim; you can see them as dark streaks running down the crater wall. Mounds of material at the base of the crater wall indicate bigger landslides, too. Vesta's gravity is far weaker than Earth's - it's about 1/40th what we experience here - but even then, it's a force that won't be denied.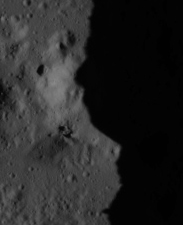 While I was inspecting the crater floor, I saw something that made me laugh out loud. The floor is lit by the distant Sun, but a sharp shadow of the crater rim is cast on it as well. The inky black shadow is irregular due to the uneven crater rim. Inset here is a piece of that shadow line. Do you see the dark shadow "face" looking to the left at the top? It jumped right out at me... and then I saw another face just below it, this time bright and looking to the right and slightly up!
Once you see it...
Man. Pareidolia is a force almost as strong as gravity.
Anyway, Dawn's visit to Vesta has come to an end. It left the asteroid on September 5, and began the long two-and-a-half year voyage to visit Ceres, the largest of the main belt asteroids between Mars and Jupiter. Vesta is a fascinating place, but so is Ceres, and we know very little about it.
That's all about to change. But then, that's what exploration is for.
Related Posts:
- Dawn flies over Vesta
- Dawn dips down to Vesta
- Vesta in breathtaking detail
- Vestaâs odd bottom

Sponsored Stories
Recommended by Zergnet