Syfy Insider Exclusive
Create a free profile to get unlimited access to exclusive videos, sweepstakes, and more!
Sign Up For Free to View
The scars of a Colorado fire

A few weeks ago, Colorado fires raged. They are still there, but mostly out and contained - the Boulder fire is completely contained, but pockets of fire will probably burn at a low level for weeks and be put out as they're found.
South of us, in Colorado Springs, the wildfire was apocalyptic. It destroyed over 18,000 acres (72 square kilometers, 28 square miles) and many buildings and houses. The scar it left behind is visible even from space, especially in the infrared, as in this image from the Earth-observing Terra satellite: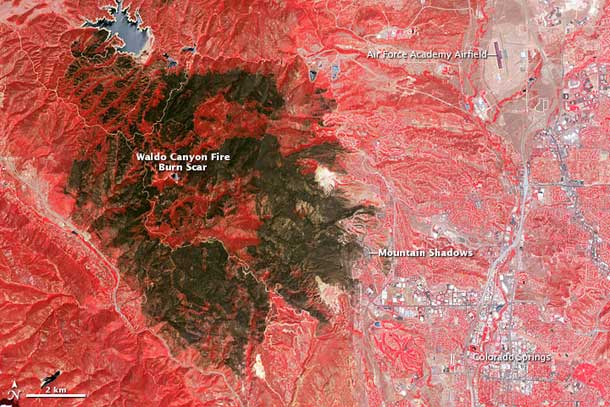 [Click to conflagrate.]
The way this image is color-coded, ironically vegetation looks red while fire-ravaged areas are greenish. The scale bar at the lower left should give you a sense of how big this fire was. Most of the houses destroyed were in the Mountain Shadows subdivision, which is labeled. A vast amount of effort by firefighters went in to making sure the fire didn't progress farther down the slope of the foothills.
Images like this one can help people assess the extent of fire damage. And they serve as a reminder that our environment can be tragically fragile. To some extent it's a natural process - this fire, along with the one in Boulder and the huge one west of Fort Collins were all started by lightning during thunderstorms. But our presence changes some of these processes, and we make some things better and others worse. The more we understand how fires start, how they spread, and how to stop them, the better. Watching all three fires both from the ground (in the case of the Boulder fire, in person as well) and from space is something I'd prefer not to have to do again.
Image credit: NASA Earth Observatory image by Jesse Allen and Robert Simmon using data from the NASA/GSFC/METI/ERSDAC/JAROS, and U.S./Japan ASTER Science Team.
Related Posts:
- Boulder wildfire
- Pyrocumulus cloud
- Did a telescope start a house fire in Arizona?
- Boulder fire from space

It's a fan thing
Join SYFY Insider to get access to exclusive videos and interviews, breaking news, sweepstakes, and more!
Sign Up for Free
You May Also Like
Recommended by Zergnet