Syfy Insider Exclusive
Create a free profile to get unlimited access to exclusive videos, sweepstakes, and more!
Sign Up For Free to View
The staring eye of a crescent moon

Sometimes, the images from the Cassini Saturn probe are so cool it's tempting just to post them and say, "Look at THAT!"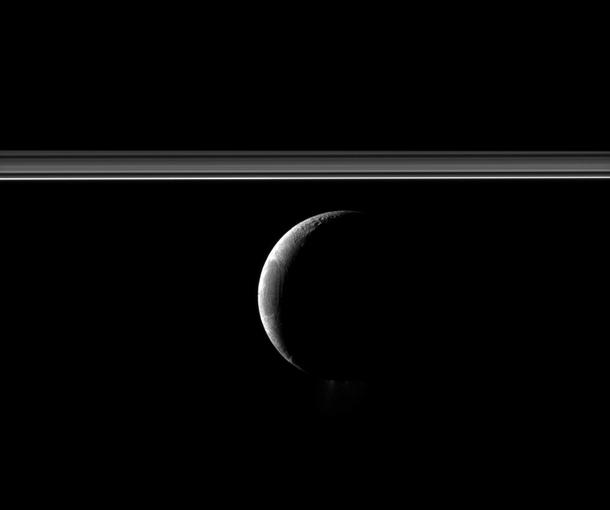 See what I mean? [Click to gigantesenate.]
But of course, I can't just leave it at that. This image, taken on January 4, 2012, is a bit different than most. Sure, we see Saturn's magnificent rings, nearly edge on from this perspective. And we've seen this icy moon Enceladus many, many times (see Related Posts below for tons more pictures). Look at the bottom of the moon: see those fuzzy streaks? Those are geysers of water spewing from cracks in the moon's south pole! Cassini has been studying them intently ever since they were discovered; they are proof that liquid water exists under the surface of Enceladus, though it's still being argued over whether it's in pockets, like lakes, or the whole moon has an ocean of water under the surface.
Despite all that, I keep getting drawn to the crescent shape itself. We can never see that from Earth. Saturn is much farther out from the Sun than we are, and geometry demands that from home we always see these worlds nearly fully lit by the Sun. The only way to see them like this is to go there.
But also, that giant circular feature is really interesting. It's big, maybe 200 km (over 100 miles) across, and a bit darker than the surrounding surface. I tried locating it on an atlas of Enceladus, but it wasn't obvious at all. I thought it might be an impact basin, but a little scrounging online led me to a paper by Cassini imaging team leader Carolyn Porco, which says there are no large impact basins on Enceladus! So what is it?
Well, why not go to Dr. Porco herself? I sent her a note, and she kindly replied. That region is called Diyar Planitia, and it stands out among the surrounding terrain because it's much smoother. It does have narrow surface features, but they're too small to be seen at this resolution. At the low angle at which we're seeing it here, it looks a little bit darker than the rougher terrain around it, so it's easier to see (which is why on an atlas it's harder to find). It is roughly circular, but that may simply be coincidence. Enceladus has been massively resurfaced, with some areas much older than others, due to various forces under the surface -- looking this all up I learned a new one, called diapirism, where lower density material underneath higher density material can rise up and break through. That's one process that's helped change the surface of Enceladus over the eons.
That's pretty nifty. And think about that! Today I learned of what is to me a new region of the solar system, one that has an interesting and complicated history, molded by vast forces over long-stretched times, one of which was also new to me. How wonderful to get all that from what's otherwise just a pretty picture!
But of course, in science, there's no such thing as just a pretty picture. Science is a tapestry, a vast complex fabric interwoven with countless threads. Each of those threads is amazing, each important, and each leads to another. And that's where the true beauty of science lies.
Related posts:
- Enceladus sprays anew!
- Enceladus fires on Alderaan
- Saturn weather forecast: rings, with light rain from Enceladus
- Icy moon and distant rings

Sponsored Stories
Recommended by Zergnet