Syfy Insider Exclusive
Create a free profile to get unlimited access to exclusive videos, sweepstakes, and more!
Sign Up For Free to View
The Sun ate another comet

It's tough to be a comet.
You spend most of the time -- billions of years, really -- out in deep space where it's cold and dark. Of course, since you're mostly made of ice, that's not so bad. After all, the Sun is hot, and if you venture too close...
Well, you know what happens then. And such was the fate of Comet SWAN, discovered just a few days ago as it plunged headlong into the seething fires of the Sun. And I have video!
That was made from images taken by NASA's SOHO satellite. In fact, the comet is named SWAN because it was first seen in the SOHO SWAN camera, designed to look for ultraviolet light coming from hydrogen. Here's the thing: no comet has ever been seen before in that camera, including the phenomenally bright comet Lovejoy from a few months ago. But Lovejoy got incredibly bright overall, while this new comet never did brighten much. Comet SWAN must have undergone some sort of outburst to make it so bright and then fade again; that's happened before.
Here's another shot of it from SOHO: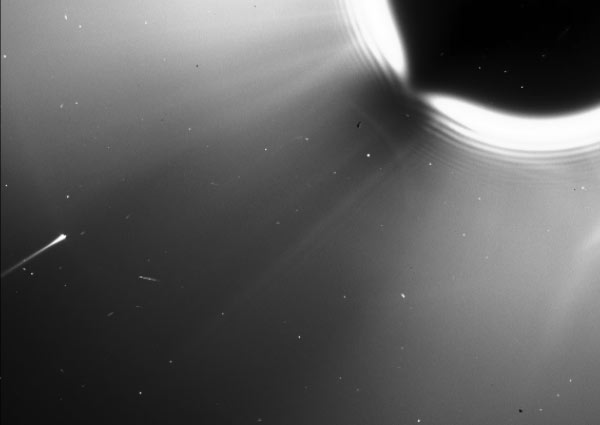 [Click to enhalleyenate.]
Comets like these are called Kreutz family Sun grazers, a collective group of comets on similar orbits that take them very close to the Sun's surface. Some survive, like Lovejoy did, and some... don't.
The Sungrazing Comets site has lots more info on this weird comet and its untimely death. You can also follow SungrazerComets on Twitter for current news on these doomed chunks of ice.
Image credit: NASA/SOHO. Music in the video was "Heavy Interlude" by Kevin MacLeod, used under Creative Commons license from incompetech.com.
Related Posts:
- Amazing video of comet on a solar death dive
- The comet and the Coronal Mass Ejection
- Amateur astronomer discovers sungrazing comet
- One more Lovejoy time lapse⦠maybe the last

Sponsored Stories
Recommended by Zergnet