Syfy Insider Exclusive
Create a free profile to get unlimited access to exclusive videos, sweepstakes, and more!
Sign Up For Free to View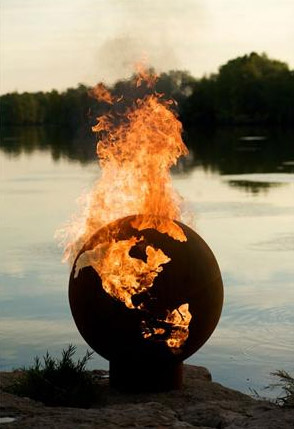 I don't really have much of a need for a fire pit. I mean, sure, it would be nice on chilly Boulder nights when we want to sit outside, and fire pits are rather romantic and cozy devices.
But this one? Come on. Yes, I want one! After all, I came up with this general idea years ago! [Specifically, the graphic on that page.]
Sigh. But at $1700 I suppose it's just a pipe dream. After all, it would be rather ironic to own one since it would add CO2 to the atmosphere. And, of course (wait for it...) I don't want to set the world on fire.
Tip o' the charcoal briquet to Miss Cellania at Neatorama and Laughing Squid.
Related Posts:
- WANT Part XI: To boldly slice
- WANT Part X: The TARDIS. A REAL TARDIS!
- WANT Part IX: Levitating TARDIS edition
- WANT Part VIII: Zen and the art of Apollo maintenance
- Waaaaaaaaaaaaaaaannnnnnnnt!!!
- Want: Part 6
- Want: Part V, lunar furniture edition
- Want: Part IV
- Want: Part III
- Want: Part II
- Want

Sponsored Stories
Recommended by Zergnet