Syfy Insider Exclusive
Create a free profile to get unlimited access to exclusive videos, sweepstakes, and more!
Sign Up For Free to View
What happened to Phobos-Grunt?

On Sunday, January 15th, 2012, the Russian spacecraft Phobos-Grunt fell to Earth after a failed attempt to get it to Mars. It burned up in our atmosphere some time around 18:00 UTC, though the exact time isn't clear.
During its final orbit, I did a live video chat on Google+ with my friend, science journalist Emily Lakdawalla of The Planetary Society, and we talked about the probe. The entire discussion is now on YouTube:
It's an hour and a half long, as we were following the news and rumors of the probe in real time. The big question the whole time was: where and when did the probe fall?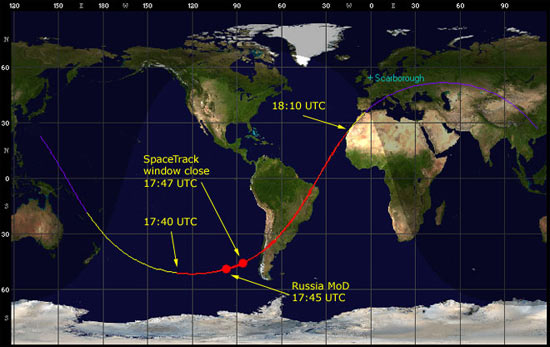 It's a good question. Moving at 8 km/sec (5 miles/sec) as it came in, it covered a lot of territory -- as you can see in the map above showing the final track of the spacecraft. And since the final moments apparently happened over the Pacific ocean and southern South America -- places where there aren't many observers -- it's not at all clear just where, or even when, the spacecraft came in. As Emily and I discussed in the video, it's possible that the US intelligence people may know, since there are many spy satellites that observe the Earth and may have seen the spacecraft's demise. However, understandably, the government may not want to release that data. Or even acknowledge it.
Even now, days later, it's still not clear what's what. The Russian Space Agency and news organizations have released statements I find a bit difficult to swallow, to say the least -- like this one "suggesting" US military radar damaged the spacecraft, or this statement from Vladimir Popovkin -- the chief administrator of the Russian space agency Roscosmos -- suggesting foreign sabotage. Seriously.
Sigh.
Emily has a solid wrapup of what's known right now. I'll post more if we find out more, but it seems unlikely. The Earth has a lot of real estate, and even with seven billion people we're spread relatively thinly across the surface. We may never find out what happened with Phobos-Grunt, which is too bad. The more we learn about how and why spacecraft fail, the more likely we can prevent such problems in the future.
Image credit: Robert Christy, the Zarya website
Related posts:
- Phobos-Grunt to come down today
- Doomed Russian Mars probe seen from the ground
- ESA writes off Phobos-Grunt
- Phobos-Grunt scheduled to launch at 20:16 UT
- Final: ROSAT came down in the Bay of Bengal
- UARS official re-entry⦠and up next: ROSAT

Sponsored Stories
Recommended by Zergnet