Syfy Insider Exclusive
Create a free profile to get unlimited access to exclusive videos, sweepstakes, and more!
Sign Up For Free to View
If you read this blog, then you probably already know about xkcd, the web comic by the geektastic Randall Munroe. What you may not know is that Randall really is just that smart, with a keen interest in physics and math. He likes thinking about big-picture stuff, including taking what might seem like silly ideas and running with them to see where they lead.
So I'm really excited to see he's started a blog called "what if?" He takes crazy questions from readers and answers them, following the logic wherever it may lead.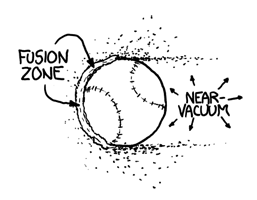 The inaugural post asked, what if you threw a baseball at very nearly the speed of light? I have seriously thought about this as well, and while I found myself smiling at Randall's explanation - his thinking followed mine very closely - he took a turn I hadn't thought about: atoms in the air undergoing nuclear fusion with the baseball. Huh.
The second post, which just went up, is about how well you'd score if you answered SAT questions randomly, and somehow due to Randall's machinations all the US Presidents and 75% of the the cast of Firefly get electrocuted by lightning.
Huh.
As usual, this is clever, funny, odd, and just plain cool. You'll feel smarter - you'll be smarter - after reading it.
Related Posts:
- xkcd is the very model of a modern major science grad
- Randall Munrion
- A hoopy frood
- xkcd on neutrinos

Sponsored Stories
Recommended by Zergnet