Contributed by
Mar 27, 2012, 7:00 AM EDT
[Over the past few weeks, I've collected a metric ton of cool pictures to post, but somehow have never gotten around to actually posting them. Sometimes I was too busy, sometimes too lazy, sometimes they just fell by the wayside... but I decided my computer's desktop was getting cluttered, and I'll never clean it up without some sort of incentive. I've therefore made a pact with myself to post one of the pictures with an abbreviated description every day until they're gone, thus cleaning up my desktop, showing you neat and/or beautiful pictures, and making me feel better about my work habits. Enjoy.]
Did you know there's a unicorn in the sky? There is: the constellation Monoceros (literally, one-horn). Located near Orion, when we look in that direction we're peering into the disk of our Milky Way galaxy, and that means seeing lots of gas and dust. And when you do that with a telescope like WISE that sees into the far-infared, what you get is, well, magic: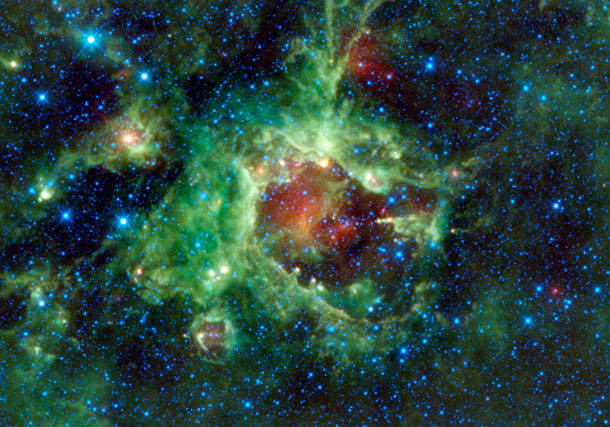 This is SH2-284, a star forming nebula. The image is false color, but each hue represents a different part of the infrared spectrum. Blue and teal is mostly coming from stars, while red and yellow is dust. Green comes from a very specific kind of material called a polycyclic aromatic hydrocarbons -- long-chain carbon molecules which are essentially soot. PAHs are made in various ways, but are abundant where stars are being born, and that's what we're seeing here.
There's a cluster of young stars in the center of this cloud, and they're so hot they're eating out the inside of the cloud, creating that cavity you can see. Like so many of these structures, the clock is ticking: many of those stars will explode, and when they do they'll tear the cloud apart. So take a look while you can... this unicorn rainbow cloud only has a few million years left before it's extinct.
Image Credit: NASA/JPL-Caltech/WISE Team
Related Posts:
- Rudolph the red-dusted Strömgren sphere
- Orion's WISE head
- An ionized rose would smell as sweet
- A giraffe's shocking neck