My old bud Dan Durda tipped me off to this very cool image from the Earth Science Picture of the Day site: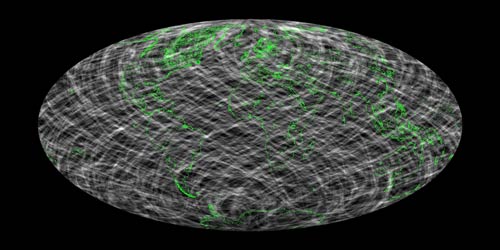 It shows the location of all the total solar eclipses over the past two millennia! That's petty nifty. As you can see, some places got more than others (where the trails are brighter white). Chicago seems to have been blessed, as has central southern Canada. It's interesting; there is very roughly one solar eclipse per year. The shadow of the Moon on the ground is relatively narrow, so even after so many eclipses the Earth isn't completely covered.
You may notice there are more eclipses in the north than the south. According to ESPOD, that's because there have been more eclipses during the (northern) summer months. During that time, the Earth is farther from the Sun, making the Sun appear smaller, so it's easier for the Moon to cover it up. Since that's northern summer, days are longer too so there is a higher chance of actually seeing an eclipse in the northern hemisphere (something ESPOD forgot to mention :-)).
The next total solar eclipse will be on August 1, 2008. But you'd better dress warmly: the track is way up north, crossing Canada, Greenland, and Asia.
Make Your Inbox Important