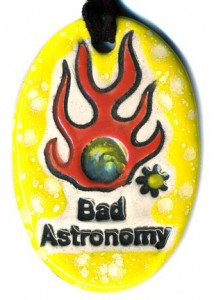 If you ever read Skepchick, you already know of Surly Amy: skeptic, artist, photographer, and all around cool chick. I'm glad to have her as a friend.
She also creates wonderful critical thinking jewelry she calls Surlyramics. These are ceramic necklaces and other accouterments with skeptical, scientific, and critical thinking phrases and drawings on them. They're very cool, and wildly popular at meetings I've been to.
She and I have teamed up to create a limited edition Surlyramics Bad Astronomy pendant necklace. Each one is hand-formed and painted, and only 200 will be made. Once they're gone, they're gone.
The reason we're doing this is that when you order a Bad Astronomy Surly necklace for $20, half of that will be donated to the American Cancer Society. Our goal is to raise $2000 in honor of my friend Jeff Medkeff, an astronomer and really nice guy -- he's the one who named an asteroid after me, as well as others for other skeptics and scientists. Jeff succumbed to cancer in 2008, and this is our way of letting people know about the good work he did and that his legacy lives on.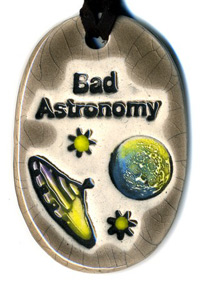 We're trying to raise as much money as we can so that we can announce the total at Dragon*Con in Atlanta this year, which is September 2. These necklaces are honestly really cool -- Mrs. BA loves hers -- and when you buy one you're doing a Good Thing. Also, if your order totals more than $50 you get free shipping. Details on how to order are at her site; click a pendant to find out more.
[Note: Amy is making them as this gets posted; if the site says sold out don't fret! She'll be making more and getting them online after TAM 8 finishes on July 12.]
So show off your love of astronomy (bad or otherwise), look cool doing it, and know that you're helping medical researchers fight cancer. Thanks.
Make Your Inbox Important