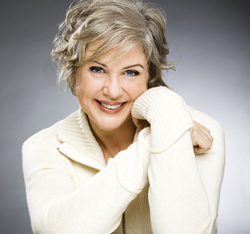 Julia Sweeney is getting married today. Yay!
She is a major sweetie, and someone who should be a role model for folks everywhere. I met her way back in 2002 or 2003, when I gave a talk in LA. Jim Underdown, who invited me to give the talk at CFI West, told me that Julia had read my book and wanted to have the family and me over for dinner. I was a bit baffled at first-- Julia Sweeney? "It's Pat" Julia Sweeney?
But that first impression, which follows her everywhere, of course, is quickly dissolved when you actually meet her. She is open, honest, funny, sweet, and razor sharp -- both intellectually and in her humor. What I find amazing about her is her marvelous sense of wonder, of her need to learn. She's a self-confessed science groupie. Her husband (still to-be as I write this!) is an X-ray spectroscopist; I met him briefly at a picnic she was having a couple of years ago. I got her alone for a sec and said "He's a scientist!" like a stereotypical gossiping schoolgirl, and she got this look on her face and said "I know!" -- like he was Prince of a European country -- and it will always make me smile when I remember that.
Her one-woman shows are incredible, and "Letting Go of God" is an astonishing, funny, and beautiful tale of her searching for meaning in life... and finding meaning in the search. Sorta. You just need to hear it to understand. It's worth it.
So congrats again Julia. I have no doubt it will be days or weeks before you see this (she has a lot of friends) but just in case: yay!
Make Your Inbox Important