It's time once again for a book giveaway contest!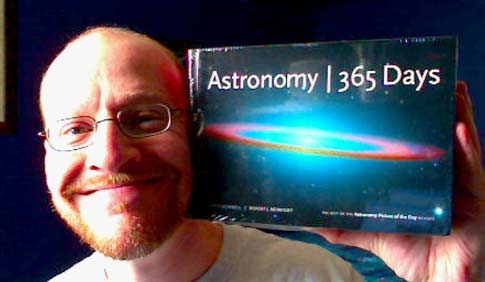 Please read this whole post: there are rules and some restrictions mentioned near the end.
This time, the book I am offering is Astronomy | 365 Days, the hardcover version of the very cool Astronomy Picture of the Day website. If you don't know about APOD, my first question is: what's wrong with you? It's the most popular astronomy site on the internets. Bigger than mine, even.
The APOD dudes put out a book a few years ago, and it's magnificent. So is this one, which was sent to me specifically for this giveaway by Robert Nemiroff, one of the authors. 365 beautifully printed astronomy pictures: from Hubble to ground based observatories to still shots using just a digital camera, this book is fantastic. I really don't need to shill it. For one thing, it's free if you win it, and second, it really is just that stunning.
You want it.
But wait, there's more! I am also giving away a DVD called Ambient Space, a screensaver/TV slide show. I got an email from the company that makes it, asking if I wanted to give them away, and I said sure, so they sent me a few copies. I've looked it over, and I'll be writing a review of it shortly. The quick version: it's OK, but not fantastic. The pictures are generally very nice, but there are a few errors in it, and some of the images are distorted. Overall, it's not too bad, and if you win it it's free, so you can't complain.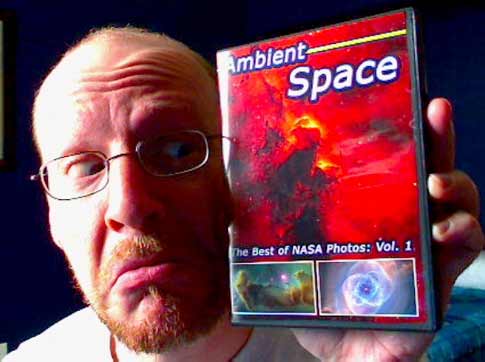 The deal is the same as last time. All you need to do is go to the Bad Astronomy and Universe Today bulletin board. I've created a thread in the Fun-n-Games section called "APOD book/Ambient Space giveaway contest!" If you're already a registered user, just post something in that thread, like "I wanna win the book!" It doesn't matter what you post as long as you post -- though it would help a lot (see caveat below) if you say whether you are in the United States or not. Post ONLY ONCE. If you post more than once I will delete the extra posts.
If you are not already registered at the board, it's easy and free. We don't charge anything, and we don't do anything with your emails or info. I hate spammers more than you do, guaranteed (I get thousands of spams a day-- and not just email but also comments on this blog and on the BAUT board!), so I swear that info stays in our database and that's it.
At noon Pacific time on Saturday, April 21 I will close the thread. I'll then generate a random number, and whoever has that number post wins the book! I'll pick a second number, and they win the DVD. I'll send the winners private messages or email confirmations so they can send me their snail mail address. The book and DVD will wing their way shortly thereafter. There will be no cost to you at all (the cover price of the book is US$29.95, and Ambient Space goes for $14.95).
There is one caveat: Only people in the 50 US states are eligible for the book. I'm sorry about that, but it's a very heavy book (2 kilos/4.4 pounds!), and shipping internationally is prohibitively expensive-- more than the cost of the book, in fact, in many cases (I picked some countries randomly to check prices, and one was $140!). PLEASE STATE IN YOUR POST IF YOU ARE IN THE U.S. OR NOT. That'll make my life easier (as well as everyone else in the contest too).
In the case that the first number I pick is international, I will continue to generate random numbers until I get someone who is in the States. In case I cannot tell, I'll send a PM or email to the potential winner. If I don't hear back by Tuesday at 6:00 P.M. Pacific time I'll grab a second number, and so on. The DVD I'll send anywhere, so if you're one of them foreign types, you should still post to BAUT. :-)
I'd say good luck, but we're all skeptics here and know there is no such thing as luck. So just post on the board and take your chances!
Make Your Inbox Important