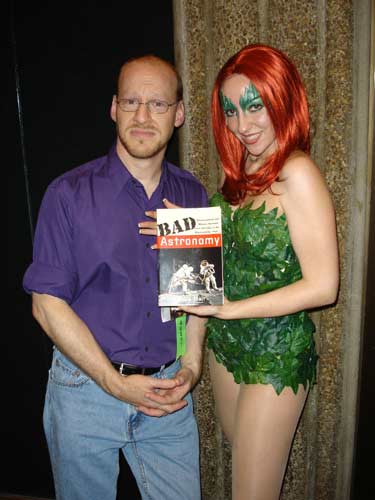 C'mon, you'd look smug too if you had been standing there.
Anyway, finally, a week late, here's my report from DragonCon 2006:
It rocked.
Oh, you want more? Well, it really rocked. There is simply too much that happened to tell you everything, but here's a good list:
I took about 100 pix. I loaded the best onto Flickr. Some are out of focus, and some are decidedly Not Safe For Work.
I attended the con under the auspices of the Podcasting and Science tracks, so I thank John Nyx, Derek and Swoopy for inviting me!
I finally met Swoopy and Derek from Skepticality in the flesh. They were running the podcasting track of the con, and were very, very busy. Still, I got a chance to hang with them briefly, and they are truly wonderful people. And if you aren't listening to Skepticality, why the heck not?
I sat in on two panels: one on skepticism as part of the Georgia Skeptics, and the other on science in science fiction. I had a fine time on both, and the only real problem was I wish there had been more time. Science fiction fans, in general, get it when it comes to science. I'd love to see that become more prevalent in the populace at large.
I bunked with Fraser Cain, who runs Universe Today and is a good friend. We had a blast.
Folks I met and/or talked to:

Michael Stackpole, who writes Star Wars books and has a great podcast.
Billy West, voice of Fry and Zoidberg on Futurama, as well as Ren and Stimpy. We chatted for quite some time about astronomy, skepticism, and cartoons.
Roger Bumpass, voice of Squidward on Spongebob Squarepants.
Richard Hatch, from Battlestar Galactica.
Kevin Grazier, now an old friend, who is the science advisor for Battlestar-- I may have to assassinate him for his job, but other than that we get along well.
Mark Goddard and Marta Kristen, from the original Lost in Space series. That was pretty cool. Mark is way into astronomy! I was going to give him a copy of my book, but couldn't find him later when I had a copy. Oh well.
Many, many podcasters: LeAnn, Sheila, Evo and Tee, Mur, and others I'm probably forgetting now.
I was hoping to get a few autographs, but I didn't get any (with one exception, below). The celebrities had stacks of pictures you could buy for $20-25 each, which is fine, but they wanted money to sign something even if you brought your own swag. I had my "Firefly" DVD set to get Summer Glau and Alan Tudyk to sign, but they wanted $20 to do it. I can understand that; people get signatures so they can sell the stuff on eBay, but still. It seems, well, tacky to charge when you bring something. If you can argue against this, I'm listening.
The one exception was the lovely Kari Byron from MythBusters. I met her in January at The Amaz!ng Meeting, and we chatted for a while. When I told her I watch the show with The Little Astronomer, she immediately pulled out a picture and signed it for her. Kari-- you're cool. And I'll add that Robert Picardo (the doctor from Star Trek: Voyager) did the same thing at WorldCon. I told him I've been a fan since he was The Cowboy in "Inner Space", and he whipped out a picture of him as The Cowboy and signed it. Very cool.
Good publicity costs nothing.
Still, it was fun. I chatted with many stars, some of whom are childhood heroes, others of whom are new to me. But it was pretty much all gold.
If you're looking for more pictures than just mine, then here are a few links for you:
This one, and this one, and this one, and this one (Hi Leann!), and this one, and this one, and this one, and this one (phew!).
I'm planning on going next year, too. But I'll have to come up with some costumes...
Make Your Inbox Important