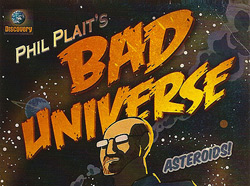 It's been a couple of days, and more reviews of "Bad Universe" have come in:
- My brother from another mother Fraser Cain at Universe Today
- My alma mater's online mag UVa Today
- The Bollingbrook Babbler (that's a satirical newspaper, so there ya go)
- Pop Army
- My friend Evan Bernstein from Skeptics' Guide to the Universe wrote up his thoughts at The Ness
- I started a thread on Reddit
- The science and scifi blog io9
The reviews are all still very positive, which makes me happy, since I can send the links to Discovery Channel instead of pestering them myself. If you know of more reviews, please link to them in the comments below! If you find a negative one, don't hesitate to link to it; I want to know what people think so we can make the better... if we get that chance.
A lot of folks are asking when it will play in their country. I don't know, except that Discovery Asia will air it in November, and Discovery Canada is looking into it - and that latter was due to people on Twitter asking them. So don't ever think you can't influence what gets aired on TV, folks. Power to the Tweeple!
Make Your Inbox Important