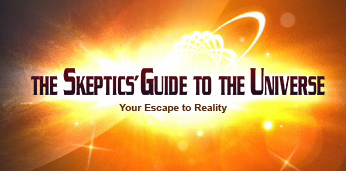 The Skeptic's Guide to the Universe is one of my favorite podcasts. It's funny, informative, goofy, but most importantly goes right to the heart of a lot of issues important to the critical thinker.
I've done a lot of interviews with them, and sometimes they call me at the last minute when there's some breaking astronomy news. So a couple of weeks ago I wasn't too surprised when Steve Novella sent me a note asking if I could record with them that evening for their annual year-end wrapup episode.
What did surprise me is why they wanted me on: the SGU listeners had voted for me as Skeptic of the Year!
Well, wow! I was really floored when they told me this during the interview. It was totally unexpected, and quite an honor. I made some jokes about it in the interview, but now that I've had some time to think about it, I want to reiterate how honored I am. It was a great year for skepticism and skeptics themselves, with Simon Singh publicly defending himself from craven chiropractors who tried to sue him into silence, Amy Wallace writing about antivaxxers in Wired magazine, the Australian Skeptics heroically taking on (and being attacked by) the awful antivax guru Meryl Dorey, Randi publicly fighting his cancer with medical science, and so many more.
In that company, I stand paradoxically humbled and proud. My sincere thanks to everyone who cast their vote my way on the SGU forums.
I always really like the SGU year-end wrapup; it's fun to listen in on the rogues reminiscing on the past year. This one in particular is a great episode. Here's a direct link to the MP3 of the show, and if you don't already subscribe to SGU, then go do it now!
Make Your Inbox Important