<?xml encoding="utf-8" ??>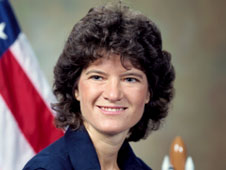 I'm sad to write that Dr. Sally Ride, the first US female astronaut to go into space, has died of pancreatic cancer. NASA has a wonderful page in tribute to this trailblazer, and there's little I can add to it. You can read about her many contributions to the space program on her official astronaut bio page.
She was and will continue to be an inspiration to women and men across the world, and while she's gone too soon, I'm glad she was here - and making a difference - as long as she was.
Image credit: NASA