<?xml encoding="utf-8" ??>
[Update: Lots of people are commenting on what Randi wrote in his Swift post today. Quite a few of these commenters are reading far more into what he said than he actually said, and running a bit (or a lot) wild with it. I just talked with Randi about it (and sent him some info on AGW), and he's posting a followup tonight. I don't know what he'll say, but I think it would behoove all of us to sit back, take a deep cleansing breath, and try not to fly off the handle, mmmmkay?]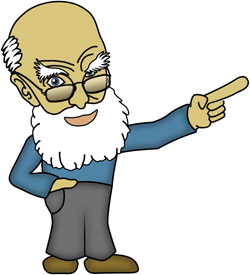 At the end of the year, lots of charities ask for money. It's a combination of the giving season, as well as your chance to make some tax-deductible donations before the new year starts. I've been getting a ton of requests in the mail, getting phone calls, and seeing bell-ringers everywhere (and don't get me started about why I won't give to them -- oh, OK, this should be enough reason).
If you're looking to lighten yourself of some loose change, may I suggest the James Randi Educational Foundation? It's non-profit, promotes science and skeptical thinking, and also provides the skeptical community a platform -- I think of it as a condensation nucleus, dork that I am -- that helps people get recognition and the ability to meet and form new groups.
The JREF also has a new fund-raiser, called The Season of Reason:
This new education effort is aimed specifically at introducing grade-school children to the concept of critical thinking. The JREF is poised to begin a program that uses a network of local educators and upstanding critical thinkers to make presentations to grade-school children and expose them to critical thinking as it pertains to everything from literature and science, even delving into novel areas such as sports and fantasy.
This is a terrific idea, and I know a lot of the people in the JREF community are chomping at the bit to work on something like this. Your contributions will help introduce kids to a wonderful thing that adults rarely show them: reality.
And a donation of $100 gets you a Best of TAM DVD, too. I've been to every TAM, and if you've never attended one (and even if you have) this is something you'll want to see.
As you know, I'm stepping down as President of the JREF to work on some other projects, but obviously I still support the JREF mission. Here's a chance for you to support it as well. Thanks.