Wanna do some science at home in your pajamas?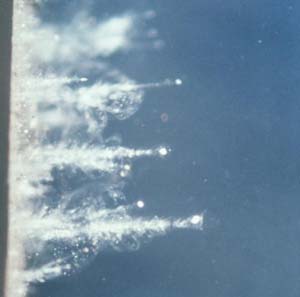 I've written quite a bit about Stardust, a NASA mission that collected dust from a comet and brought it back to Earth. The dust was captured using a foam called aerogel, and scientists took a lot of images of the gel, so they could search for the interplanetary dust particles. The dust leaves tracks in the gel, as show in the image above.
It's too big a job for a small team of scientists, so they started the Stardust@Home project, where you, the public, can help the search. You go through a short training session online so you can see how the procedure works, and then you can start searching! 115,000 people pre-registered for this, and they can always use more eyes.
The fun begins at 11:00 a.m. Pacific time TODAY, in just ten minutes as I write this, when they release the data. If you're interested, sign up! You might be the one to find a tiny speck of outer space right here on Earth.
Make Your Inbox Important