The first Pharayngula/Bad Astronomy blogger meet up was a success! And not just because more BA fans showed up over PZ's, despite any lies PZ will almost certainly post.
About two dozen folks showed up, and we had a great time until well into the wee hours (aided for me, no doubt, by my being from two time zones west). We talked on a lot of different topics, including science, conventions, food, and of course the recent Best Science Blog award foofooraw.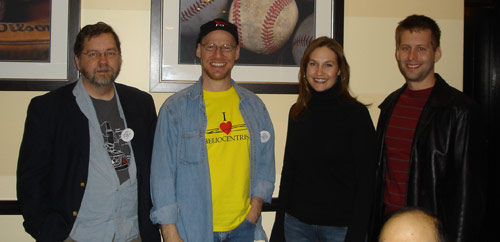 Tara Smith from Aetiology showed up as well with her boyfriend (happy birthday Evil Monkey!), and that added to the festivities -- that's them in the picture, with PZ and me on the left. I will publicly chastise and mock BlueGal and DCup for leaving early to go back to their rooms and -- of all things -- work on their blogs. Of course, they were able to actually post pictures of the informal blogger dinner (check those links for the pix), while I had to wait until today. Oh well.
All in all, I thought it was a great time, and I'll see about doing more of these when I travel. It's a really fun way to meet folks of similar mind.
I'll have more about the meeting we're attending a bit later...
Make Your Inbox Important