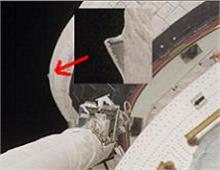 Damaris Sarria is
an astronaut trainee a Boeing engineer who is on a team inspecting the Shuttle for damage it might get when it launches.
She is reporting a potential issue with a piece of insulating blanket
that fits on the starboard Orbital Maneuvering System pod, the round cowling that makes the tail of the Orbiter flare out. In the image you can see the bump on the side of the pod which may be a loose blanket. This sort of thing has happened before, and can be dealt with if needed.
It's possible that the ISS astronauts have gotten a better picture which will aid analysis. Stay tuned to her blog for more info, and I'll mirror it here as well.
Make Your Inbox Important