<?xml encoding="utf-8" ??>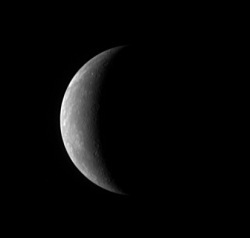 The NASA spacecraft MESSENGER swept past Mercury today, and everything looks good. Some science data were returned today, but no images have been posted as yet. Tomorrow at noon EST it will point its antenna homeward and send us the rest of the data, and I'm hoping we'll see some images then.
The image here was taken on the 13th, from a distance of 760,000 km from the planet. You can already see many features! I can't wait for the good stuff to come in.