So it's Halloween, my favoritest holiday of them all. Candy! Costumes! Scariness! Ticking off fundamentalists!
What could be better?
I already wrote about my plans to haul out the 'scope, so I'll spare you that (though it'll probably be cloudy tonight, grrrr). Instead, I'll note that today is also the last day of October, a special month in skepticism: it's the month that features Rebecca on the Skepchick calendar!
It's also the month that, um, well... that I'm on the calendar too. I've not posted the whole picture here for fear of terrifying the masses (but I used a small piece of it as an avatar on MySpace). But hey! It's Halloween! Plus, since it's the last day of October, I think the surprise and shock for everyone who owns the calendar has finally worn off.
So here, without further ado, is the picture. Well, a small cropped thumbnail of it, since it's marginally (or wholly) NSFW. Click it to see the whole thing.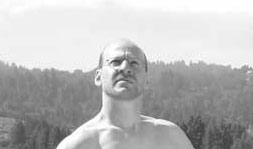 The quotation is from Carl Sagan:
It's sometimes said that scientists are unromantic, that their passion to figure out robs the world of beauty and mystery. But it does no harm to the romance of the sunset to know a little bit about it.
Make Your Inbox Important